Our next stop where the Iguazu waterfalls which are shared by Argentina and Brazil. We started in Puerto Iguazu (Argentina) where we stay in a small familie hotel. They told us, that there is a bus going from Bus Terminal (6-7 Blocks away) to the Parque Nacional Iguazu which costs about 150 Peso per person or they can organice a taxi for 500 Peso per roundtrip. Since it costs almost the same, we deccied to go with the taxi.

The entrancefee to the the Parque is incredible expensive – 500 Pesos per person – and it includes the ride with a small train through all the parque. There are walkways from the 3rd and 4th train station to the watherfalls – and it is unbelivable impressing. The Iguazu waterfalls consists of almost 280 waterfalls. On the walkways (no steps at all, so also convinient for wheelchairs,…) you can also see animals, birds an bufferflies. We also did a boadtrip on the river (not to the waterfalls, this is not allowed with children unter 12 years on argentinan side).
Last Tip: to not use the bathrooms befor the entrance. They are crowded and dirty. Just pass the entrance and you will find several clean bathrooms and no waiting!
Within the Parque Iguazu you can also book an Safari with Jeeps. They are very limited. There are only 2 Jeeps (max 8 Person per Jeep). We deccieded to take the last trip (4pm) which has the most possibility to see animales. Even not seeing an animal it was a very nice trip. Our Guide explained a lot and showed us a lot of plantes and there specialities.
Due to the fact it was raining a lot shortly befor we arrived in Puerto Iguazu the way was muddy and slippery, so it as als very exciting driving – especialy way up to the hills.
On next day we transfer from Argentina to Brazil – Foz do Iguacu. Instead of trains busses drives you around in the park (tip: exit on 3rd stop, walk along the walkway and you will end at stop 4, where you can have a break or lunch). The main difference is the viewingpoint. In Argentinia you can mainly look from the top (upper side) of the waterfalls. In Brazil you see the more from the down side – you will get the panorama view of the waterfalls.
And another exciting activity – there is also a boat trip to the waterfalls where children (except babies) are allowed to come with – we recommend not befor they are at least 4-5 years old. They ride will also go below a waterfall!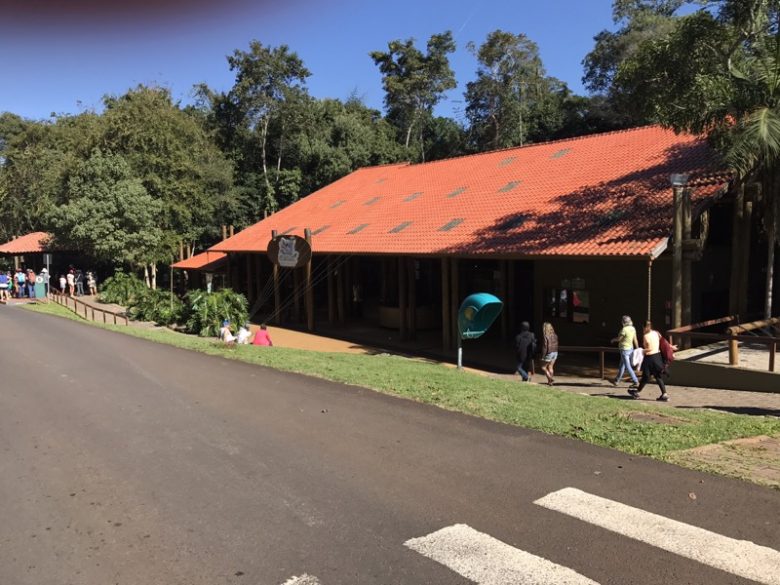 A Part of the boadtrip is also driving trought the jungle.
Our final recommendation:
One day is not enought on argentinian side – if you also plan to do the boad trip and the safari. We need 2 days to do everything. On the brazilian side one day is find doing all activities.